Exchange Hosting
The introduction of Exchange Hosting has led to the creation of a strong community of latency-sensitive trading firms and providers at the facility, including a number of key Prime Brokers who are able to facilitate client flow within the data halls. This enables non-members to receive the lowest possible latency real-time market data direct from the Exchange, and act upon the data by sending orders (via a short cross connect) to one or multiple Brokers who are located within the same data centre, for entering on to the order book, which is also located with in the same building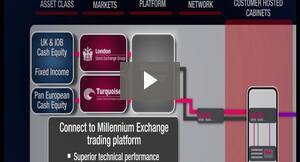 Customer benefits of co-locating with the Exchange
The London Stock Exchange's UK cash markets have recently migrated to the new Millennium Exchange trading platform, making the exchange the fastest in Europe.
Key benefits that clients of Exchange Hosting have identified as adding value to their business are:
• Hosting physically within the same data centre as a number of markets:
- London Stock Exchange
- Turquoise Cash Equity and Derivatives market (formally EDX London)
- Borsa Italiana markets (MTA, MOT and ETFplus) that are currently on TradElect in London
- Borsa Italiana access is provided remotely to the IDEM derivatives market based in Milan, and will be offered for other markets hosted in Milan
- Oslo Børs Cash Equity and Derivatives markets
• Strategically located hosting facility within central London, well situated to achieve good average latency to multiple trading venues to the East and West and client sites in and around London.
• A flexible connectivity model providing access to a range of industry leading low latency carriers.
• One of the first in the world to offer new 10Gb cross connectivity to trading and information systems.
• Low latency access to a growing community of Prime Brokers to facilitate trading and other essential support services for non-members.
• Access to low latency consolidated market data and onward order routing to multiple external execution venues.
Sponsored Access for London Stock Exchange and Turquoise
The Exchange and new Sponsored Access service for the London Stock Exchange and Turquoise markets enables non-members to directly connect to the respective trading systems with the exchange-level pre-trade risk checks. This new service will further enhance the opportunities for clients wishing to participate in our markets from within the Exchange Hosting Service
World leading matching engines and market data systems
Our world leading Millennium Exchange platform average 99 percentile latency round trip time is 125 microsecond for the London Stock Exchange Market and 100 microsecond for the Turquoise Cash Equity market.
This provides traders with the ability to complete execution with immense speed, particularly when physically close to the platform itself.
Added value services to assist clients to trade multiple market strategies
The requirement for data across multiple venues has also significantly increased, with multiple trading venues. To ensure clients are able to trade multiple market strategies the Exchange Hosting Service, in partnership with QuantHouse, offers an ultra low latency Market Data and Order Routing Service to all major European and US execution venues for clients located in the Exchange's hosting facility. The Exchange has recently extended its offer to provide a free one month trial of these services.
Strategic Central London Location
The Central London location of the Exchange Data Centre provides not only ultra low latency to the Exchange Group Markets located within the same building, but also good average latency to other UK venues.
New Milan Hosting facility
As the globalisation of markets continues, hosting in key centers across the world has become increasingly important to the high frequency trading community as participants strive to reduce latency associated with geographical location. To facilitate this, the London Stock Exchange Group recently launched a Milan Hosting Service for firms looking to gain the fastest possible access to the Borsa Italiana's services in Milan.